*Please Note*: TSHOST, ATLDC, StreamWebTown, FlashWebTown, MobileWebTown, IphoneWebTown, CloudVPSHosting have been merged into Tulix Systems, Inc. If you need support for your account, please visit the support section to login to your account.
Who We Are
| | |
| --- | --- |
| StreamWebTown has become a premier destination for content producers, channels and businesses who want to distribute high quality video and audio content to large numbers of viewers. We are determined to be the best streaming service provider. To be that means we are constantly upgrading our technology and making improvements to our network. We have a staff of highly skilled programmers who develop the software and features that set StreamWebTown apart from all other streaming providers. | |
Behind the Scenes
StreamWebTown is the streaming division of Tulix Systems, Inc., the Atlanta-based technology services company. Our team consists of veteran web designers and developers, project managers, system administrators, database/network professionals, and programmers. We have a full-time staff of ten in our Atlanta offices, as well as a team of five in the Republic of Georgia that assists with development and around the clock support services.
The Network Advantage
StreamWebTown has its own data center in the heart of Atlanta, and has invested heavily in creating and maintaining an infrastructure that delivers optimal streaming, including intelligent route control platforms. These control platforms monitor the performance of each internet backbone to optimally route your traffic. Read more about our network.
One-Stop Shop
In addition to providing hosting and content distribution services, we also help channels and businesses develop the peripheral aspects of their stream by providing a variety of services that complement and improve the viewing experience for the end user. We provide full streaming solutions to precisely meet the unique needs of each one of our customers.
Experience
We are an established technology company with over 20 years of experience in the industry. We were an industry leader in live streaming (going back to the 1996 Atlanta Summer Olympics) and, today, it is the core practice of our business.
Global Presence
We have customers in over 60 countries, a fact that we think speaks volumes about the reliability of our network and the level of customer service we provide. The only continent we aren't currently streaming from is Antarctica (but we are ready for their call ). Check out the map below, on which all the countries we have clients in are highlighted in red.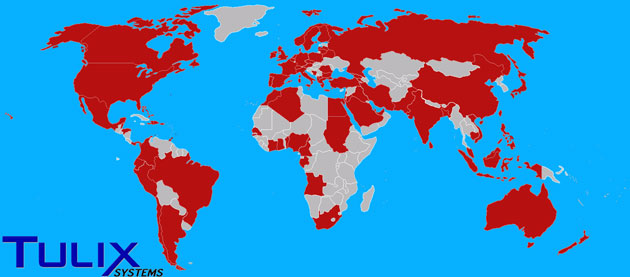 Did You Know?
Tulix charges less than 10¢ per GB of bandwidth/per month for streaming on our streaming-optimized CDN network.
We have our own data center in the heart of Atlanta, with multiple GigE connections to major international backbones
Customer
Review
"The quality of the service I receive from Tulix has allowed me to concentrate on my customers needs rather than troubleshooting our network infrastructure. When service is needed, I've found it prompt and efficient. Thank you Tulix!"