*Please Note*: TSHOST, ATLDC, StreamWebTown, FlashWebTown, MobileWebTown, IphoneWebTown, CloudVPSHosting have been merged into Tulix Systems, Inc. If you need support for your account, please visit the support section to login to your account.
Satellite Streaming
SatLIVE™
Send us your live video signal (MPEG2 or MPEG4) and we'll transcode and deliver it to a Satellite Teleport for transmission. SatLIVE™ is the perfect way of transmitting video because it is efficient and provides significant cost savings when you compare it to the traditional method of fiber delivery. SatLIVE™ also works seamlessly with our Unistream™ platform for added viewers potential. SatLIVE™ is a great option for channels and content owners wishing to distribute live video via satellite in an dependable and economical way. Contact us today to learn more.
SatStream™
Our SatStream™ technology expands the reach of traditional media delivery to the realm of streaming by pulling video/audio signal from satellites (Eutelsat Hot Bird 13A/13B/13C , Galaxy 19, SES-1, etc) then encoding and distributing it to every device we currently stream to. We have satellite receivers on the roof of our office building in downtown Atlanta and can add more by request. SatStream™ is the perfect way to grow your audience by entering a large and growing new market. We can make your channel available on just about every internet-connected device, including computers, phones, tablets, and IPTV devices like Roku and Smart TV. Please contact us if you currently distribute your content via satellite and are interested in our reliable and cost effective service.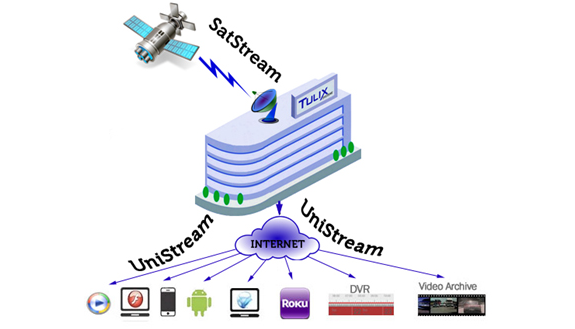 Did You Know?
Tulix charges less than 10¢ per GB of bandwidth/per month for streaming on our streaming-optimized CDN network.
We have our own data center in the heart of Atlanta, with multiple GigE connections to major international backbones